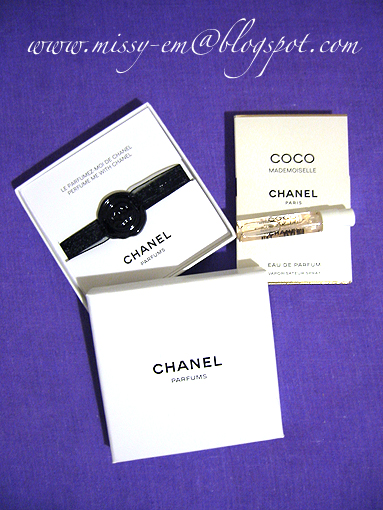 I'm on a spending ban now as I've been very UN-frugalicious.
Two weeks ago I bought a pink Parlux 3500 hairdryer. This week I bought a Mason Pearson hairbrush from Ebay and makeup from Strawberrynet.
While my internet purchases are on the way, I got a kick out out of bringing home nice things without spending cash. Scored a free Chanel perfume sample and ribbon "bracelet" from Myer. (Which is pretty useless except I'm using the box to store jewellery.)
The perfume is Coco Mademoiselle and it smells heavenly. I'm no way eloquent when it comes to describing scents. Let's just say that it reminds me of Chanel Allure and Davidoff Cool Water!